Online Banking
kip the trip to the bank and deposit your checks with Mobile Deposit. Forgo waiting in line by logging into the mobile app. There is nothing more secure and convenient than using your smart phone to capture an image of the front and back of a check and deposit it into your account. Mobile deposit is available 24/7. That means you can send your deposit information after hours and on weekends.
Mobile Deposit is available to all Mobile Banking Customers and no additional enrollment is required. You can choose between your checking, savings account or money market account. Mobile Deposit limits apply.
Getting Started is easy!
To get started, log into the RSNB Bank Mobile App. Select the "Deposit" option from the home screen, and then select "Deposit a Check". Be sure you have signed your check and restrictively endorsed it "For Mobile Deposit at RSNB Bank Only" right below your signature. Select your account to make your deposit from the dropdown. Enter the amount of the deposit and ensure it matches the amount written on your check. Your deposit limits will appear at the bottom of the screen. Then Click Take Photos. Take a picture of the front of your check, follow the prompts, and repeat the step to take a picture of the back of the check, Review and confirm your deposit is correct. A confirmation screen will appear when your deposit is transmitted.
You can track the status of the deposit by tapping "Check Deposit History" within the Deposit menu in the app. The history will indicate whether the deposit has been accepted, rejected, or is pending. Once the deposit has been reviewed, you will receive an email notification if the item has been approved or rejected at the email address on file for your RSNB Bank account. All deposits are subject to verification and can be rejected upon review.
All deposits received prior to 3:00 p.m. MST will be processed on the current business day. Funds deposited will be available in full the next business day if deposited before 3:00 p.m. MST.
Click here to review the Mobile Deposit Check Endorsement Requirements.
Want more information?
For answers to commonly asked questions, refer to our Mobile Deposit FAQ's.
Watch the tutorial below for an overview on Mobile Deposit.
Contact Online Banking Support or stop by one of our locations.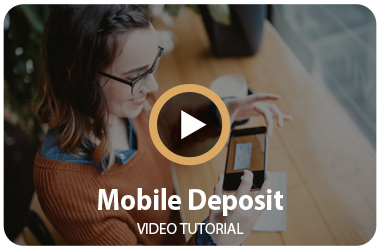 ---
Message and data rates may apply. Contact your mobile service carrier for applicable fees.
Mobile Deposit FAQ
Yes, you must be enrolled in online banking. You must have a RSNB checking account, a valid phone number and a valid email address. You must also have a residential address within the US.
When you meet these requirements, simply log on to Online Banking, select the "Bill Pay" link located in the menu section. Follow the prompts to review and agree to the Terms and Conditions and Privacy Policy. You will be automatically enrolled and can start paying bills.
Bill Pay is a FREE service! You may be responsible for other account fees.
Bill Pay is available to all personal and sole proprietor accounts.

When a bill payment is set up, it will go into a "Pending" status. This means that the payment instructions have been received. You can change or cancel the payment while it is in Pending status. Once the payment has started processing, "Processing" appears as the status in Pending Payments. Once the payment shows as Processing, no changes can be made.
When the bill payment is in the Processing status, your payment has been approved and is ready to be paid in one of the following three ways:
Electronic
- Funds are withdrawn electronically from your account and funds are delivered electronically to your payee on the payment date you specified. The payments appear on your statement as "Payee Name/Online Pmt CKF".
Draft
- A check is generated against your account and is mailed to the payee to arrive on or before your payment due date. The check will not clear your account until deposited by the payee. The check number will be a six digit number that will begin with "99xxxx".
Single Check (corporate check)
- A check may be drawn against CheckFree's corporate account and mailed to your biller. In this instance, funds are withdrawn electronically from your account on the payment date you specified. The payment appears on your statement as "Payee Name/Online Payment".
Unfortunately, you are not able to specify by how a payment is made, as the method is system-generated. CheckFree determines whether a payment is sent electronically or by check, based on their guidelines.
You will need to have a browser installed on your computer, which is capable of 128-bit encryption. If you do not have sufficient browser encryption you will receive an "Insufficient Browser Encryption" error message when you try to connect to Bill Pay. In addition to the error message, you will be provided with links where you can obtain the required browser versions. 128-bit encryption offers the highest level of security for your Bill Pay transactions.
You can pay virtually anyone in the United States that you would normally pay by check, even if you do not receive bills from the company or person you want to pay. (Certain payments are highly discouraged, such as court-ordered payments, state and federal tax payments, and international payments, through CheckFree®. These types of payments will be scheduled at your own risk).
Cut-off time is 8:00 p.m. MST. The term cut-off refers to the deadline by which payments must be scheduled in order to begin processing on the current processing day. Payments scheduled after the cut-off time cannot begin processing until the next processing day.
Since payees vary in the amount of time they take to post payments, payment dates are required to be set at least four or fewer business days in advance of the actual due date. If you use the late date or a date in your grace period as a scheduled date, the payment will not make it to the payee on time. Payments that are not scheduled at least four business days in advance of the payment due date will not be covered under the CheckFree® Payment Guarantee.
Some payees do not have the ability to accept payments electronically. As a result, a physical check must be issued and mailed. Scheduling your payments four business days in advance allows adequate time for payments to be received and processed.
The date you select is the date that funds will be deducted from your account. It is also the date that your payee should receive your payment. If the payment is electronic, it will come out of your account on the date you selected. If a draft is generated directly against your account, it normally will not be deducted on the date you specify.
There are several ways to verify that a payment has been made:
In Bill Pay, the most recent 45 days of your Bill Pay history are accessible in the Recent Payments area of the Payment Center page. You can also select the "View Bill History" link at the bottom of the Recent Payments section to see payment dates and confirmation numbers for payments. The Bill Pay history is unlimited.

From "Manage My Bills" in Bill Pay, you can set up payment reminders that let you know when a payment has been processed. Notifications are sent via email and can be viewed in the "View Messages" link at the bottom of any Bill Pay page.
You can request electronic versions of your bills from your payees. An e-bill will default to the payment amount and due date. When adding a new payee, you will be presented with an e-bills option should the payee offer the service. If you don't select e-bills when your payee is added, you can do so at a later time by selecting the "Manage My Bills" tab. You will see an option that says, "Add an e-bill". Fill in the required information and select "Submit". You will also see a Get Bill icon in the Payment Center for those payees who offer e-bills. Once you have set up e-bills for a payee, a Bill icon appears near their name on the Payment Center page.
If the "Add an e-bill" option or Get Bill icon does not appear, you can't receive e-bills from that payee.
You can use the payment calendar to determine the dates you can select to make your payments. The calendar shows:
The pay dates available in the current and next month. You can scroll to future months, if necessary.
The earliest date you can select for the payee to receive the payment (highlighted in blue).
The due date for your bill if you are paying an e-bill.
The date you set for a reminder for a bill.
Whether you can send a check to the biller through an overnight delivery or make a same day payment.
You can add payees from the Payment Center by selecting "Add a Company or Person to Pay". You will be able to pay you bill immediately. It is extremely important if you are paying a company, such as a credit card or utility, that you be sure to include your full account number. The account number will be included with the payment to ensure proper credit by the payee. If you do not have an account number, you may enter the name of the registered account holder.
If your Online Banking account shows no activity for 180 days, your online banking and bill pay accounts will be cancelled. Payees entered into the Bill Pay system will be deleted. If you are a Bill Pay user, we will make every attempt to contact you before your account is cancelled. If your account has been cancelled, you can always re-enroll at any time.
Yes, the payment is issued. If there are no funds available when the payment tries to post, your payment may be returned and Returned Item fees may apply. If the payment is a draft check and returned, the check will go back to the payee you were paying. If the payment was an electronic payment, the return will go back to CheckFree® and they will contact you directly.
If your address or phone number changes, you will need to contact Online Banking Support. If your email has changed, log in to Bill Pay, select the "My Profile" tab and select "View personal info". Make the change and select "Save Changes". Don't forget to change your email in Online Banking under the "Options" link.
Some payees (primarily large merchants) have the ability to receive your payment the same day or overnight. If a payee has the ability for same-day payments, the payee will have a "Pay Today" link and the current date will be highlighted in blue and bold on the Payment Calendar. A fee to use the same-day payment option will be displayed when scheduling your payment and will be deducted from your account.
You have the option to make overnight payments to payees who do not accept electronic payments. If a payee can be sent an overnight payment, the next day will be highlighted in blue and bold on the Payment Calendar. Cut-off time is 1:45 p.m. MST. A fee to use the overnight payments option will be displayed when scheduling your payment and will be deducted from your account.
If you are unable to find the information needed for a specific payment in "Manage My Bills", you can create a payment inquiry message by selecting the "Payment Inquiry" link under "View Detail" for the payment in question. You may also call the dedicated customer care line at 844.822.4609.
There is no limit to the number of checking accounts you can have on Bill Pay. If you would like to add an additional checking account on Bill Pay, please contact Online Banking Support.
Your bill payment responsibilities and the responsibilities of the bank are outlined in the Terms & Conditions you accepted the first time you accessed Bill Pay. Select the "View the Terms & Conditions" link at the bottom on any Bill Pay page.
A payment may be edited or deleted anytime the payment is in "Pending" status. Payments that have been remitted electronically cannot be stopped. If the payment was remitted by a draft check, call Online Banking Support to place a stop payment. A stop payment fee will apply.
Note: If you cancel an automatic payment, only the selected payment is cancelled. Future payments are not cancelled in the payment schedule. To cancel all payments for an automatic payment, go to "Manage My Bills" and delete the automatic payment.