Online Banking
Personal Mobile Deposit
Effective October 18, 2021
Skip the trip to the bank and deposit your checks with Mobile Deposit. Forgo waiting in line by logging into the mobile app. There is nothing more secure and convenient than using your smart phone to capture an image of the front and back of a check and deposit it into your account. Mobile deposit is available 24/7. That means you can send your deposit information after hours and on weekends.
Mobile Deposit is available to all Mobile Banking Customers and no additional enrollment is required. You can choose between your checking, savings account or money market account. Mobile Deposit limits apply.
Getting Started is easy!
To get started, log into the RSNB Bank Mobile App. Select the "Deposit" option from the home screen, and then select "Deposit a Check". Be sure you have signed your check and restrictively endorsed it "For Mobile Deposit at RSNB Bank Only" right below your signature. Select your account to make your deposit from the dropdown. Enter the amount of the deposit and ensure it matches the amount written on your check. Your deposit limits will appear at the bottom of the screen. Then Click Take Photos. Take a picture of the front of your check, follow the prompts, and repeat the step to take a picture of the back of the check, Review and confirm your deposit is correct. A confirmation screen will appear when your deposit is transmitted.
You can track the status of the deposit by tapping "Check Deposit History" within the Deposit menu in the app. The history will indicate whether the deposit has been accepted, rejected, or is pending. Once the deposit has been reviewed, you will receive an email notification if the item has been approved or rejected at the email address on file for your RSNB Bank account. All deposits are subject to verification and can be rejected upon review.
All deposits received prior to 3:00 p.m. MST will be processed on the current business day. Funds deposited will be available in full the next business day if deposited before 3:00 p.m. MST.
Click here to review the Mobile Deposit Check Endorsement Requirements.
Want more information?
For answers to commonly asked questions, refer to our Mobile Deposit FAQ's.
Watch the tutorial below for a overview on Mobile Deposit.
Contact Online Banking Support or stop by one of our locations.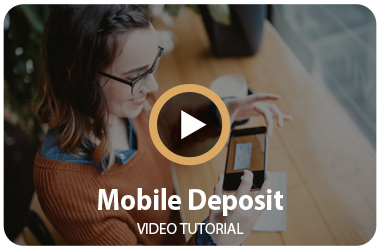 ---
Message and data rates may apply. Contact your mobile service carrier for applicable fees.